Home
Jester-Knight
Literature
Film
Music
Visual Art
Tributes
Submissions
Links
Contact
Joey Madia




Playwriting

|

Poetry | Lit | Jester-Knight | Essays |
Mindmaps | Sutras | Resumes | Photo Gallery | Minor Confessions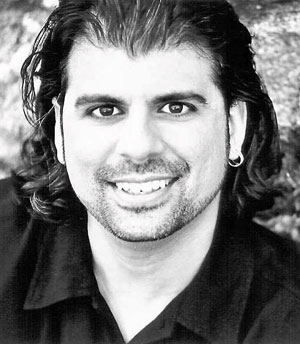 NEWS

Joey has edited a new book by Planner Forthright entitled

Minor Confessions Of An Angel Falling Upward

. Details here...

Listen to Joey's interpretation of John Gartland's

Letter to John Wilson

, with sound design by Knight Berman Jr by clicking here...



Biography
I was a born a Navy brat (Rota, Spain 1968), my dad a CPO and cryptographer in the Naval Security Group. I guess being born near the ocean put salt in my blood because no matter where I live (New Jersey and eastern Penn, the frigid cold of Maine and high heat of the AZ desert, the mountains of West Virginia) I am always happiest near the water, where the constant renewal and spiritual power of the ocean remind me (both while awake and in my dreams) that awesome beauty and horrific destruction come from the same source, depending on the convergence of natural events and the Universal mindset.

I got heavily involved in the performing and literary arts in high school, participating in chorus, theatre, music and writing and entering in arts competitions. In '86 I got accepted to Beaver College (now Arcadia U) and while there had a blast, got good grades, appeared in 10 theatre productions and became the first undergraduate to direct the fully funded Spring production. I get back there when I can, usually for the annual networking luncheon with graduating seniors, where I can share the good news that it is possible to make a decent living in the arts.

In November of 2006 I did a reading and a Master's class in creative writing as part of their "Writers Return to Campus" series.

I spent two years after college painting houses and doing construction laborer work before heading up a Feasibility Study for a proposed performing arts center in Manasquan, NJ (16 years later, they are still going strong). I spent a year visiting a dozen theatres in Jersey, meeting with staff and writing research reports on fundraising, education and other aspects of theatre administration. Once they moved to the next phase I moved on and spent several years working in database publishing, while acting, directing and teaching at night and on weekends. I tried graduate school and hated the lazy chumminess of it, so I quit after one semester, spending the money I would have spent on school building a large literary and video/DVD library of all things of interest to me, which is just about everything in one way or another, but especially comparative religion, mythology, history, and the nature of God, Lucifer, and their relationship to Humankind.

In 1997 I had a series of life-altering experiences that grabbed a good hunk of my faith and energy so I went out to Arizona to wander the desert for six weeks, beating up on cactus and writing hundreds of poems to try and regain some lost balance and perspective. It worked. I took a job as the managing director of a 120-seat theatre in AZ and continued to act and direct. I also found Tonya out there, whom I met, courted, moved in with, and married in the whirlwind span of 9 months. She has been my Muse, critic, lover, and friend for over 11 years now, and we have three pretty amazing kids: Daniel, Jeremy and Jolie, who are very talented creative young artists in their own right. In order to spend more time with them I started freelance copyediting, which consumes a lot of my time these days and buys a lot of necessary stuff for our growing tribe (which now includes our dog Stonewall Jackson Pollock—otherwise known as "Jack"—and our cat, Kali).

I never saw myself as a teacher behind a desk, but have always loved working with kids. I have the best of both worlds in being an acting and creative writing teacher. Not only do I teach traditional theatre techniques to serious young actors, I have also developed a curriculum based on my philosophy that the greatest value in studying theatre comes not in learning how to act, but in critical thinking, team and confidence building, creative projects, and problem solving, all of which can be taught using theatre.

My creative writing teaching has grown to include mentorships with promising young writers in high schools and colleges across the country.

We moved to the Jersey shore in early 2000, where I spent a great deal of time teaching theatre and creative writing and touring in 3 plays for Youth Stages, 2 of which I wrote. I also did outreach and teaching artist work for public schools, recreation centers, and libraries.

As far as my life as a writer, my poetry has been widely published and I have had several plays for young audiences published and had another win an award and a staged reading. My plays have now been produced in 14 states. I have been publishing essays and short stories, a few of which have won some awards, although my main focus is

Minor Confessions of an Often Failing Antichrist

(visit myspace.com/theoftenfailingantichrist). New Mystics Enterprises will be publishing my fantasy novel,

Jester-Knight

, in early 2009.

I am Resident Playwright/Artistic Director of New Mystics Theatre Company and Resident Playwright for Youth Stages, LLC. I have two plays debuting in Autumn 2008 at Institute of the Arts in Wyomissing, Pennsylvania.

In 2007, my four-book series on using improvisation and theatre to improve reading and writing in the classroom,

The Stage Learning Series

, was published by Accompany Publishing in Minneapolis.

For the past year we have been living in our new house on 3 acres in rural West Virginia, getting away from the hustle and bustle of the world and enjoying all that a life in the woods has to offer.

Like the ocean, this bio is ever changing, as things progress and move ever closer to center. Thanks for sharing in the journey with me.



Copyediting and Proofreading



I have 14 years' experience in publishing—four with database publishing companies organizing research and survey data and creating books on different facets of education and 10 as a freelance copyeditor and proofreader working with large publishing companies in NY and Philadelphia. I have experience with political science, physical sciences, social sciences, and historical journals, and have also done copyediting and proofreading for accounting and financial journals and manuals. My professional resume [HYPERLINK] is available at this site.

If you need a professional copyeditor or proofreader for any project, large or small I would be happy to discuss my rates and experience in more detail with you.